UNDENIABLY ONE OF THE MOST EXCITING AND TECHNICALLY EXTRAORDINARY GUITAR-SLINGERS IN CANADA, THE INIMITABLE TONEY "WILD T" SPRINGER. HE HAS ALSO BEEN AN ACTOR IN THE ROLE OF JIMI HENDRIX IN THE HOLLYWOOD MOVIE, DAY DREAM BELIEVER, IN ADDITION TO HIS PERFORMANCES AND RECORDINGS WITH STARS LIKE DAVID BOWIE, CAROL POPE & ROUGH TRADE AND MORE. SPRINGER CONTINUES TO COMPOSE, RECORD, AND TOURS EXTENSIVELY
THROUGHOUT CANADA AND EUROPE.
SPECIAL GUEST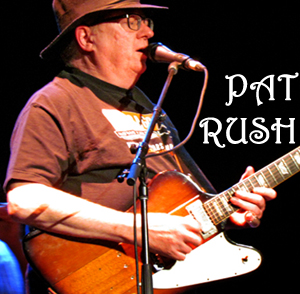 HAVING MET AND JAMMED WITH JOHNNY WINTER IN THE SEVENTIES,
PAT RUSH WAS HIRED FOR JOHNNY'S BAND DURING 1977 AND 1978, AND
WENT ON TOUR WITH HIM IN THE U.S.A. IN 1977. PAT WAS ON JOHNNY'S WHITE HOT & BLUE ALBUM FROM 1978, AND PLAYED SLIDE ON "WALKIN' BY MYSELF", FROM THAT SAME ALBUM. BESIDES JOHNNY, PAT IS THE ONLY OTHER GUITARIST TO EVER PLAY SLIDE ON A WINTER ALBUM. PAT RUSH PERFORMED PERIODICALLY WITH JOHNNY WINTER UP UNTIL
HIS PASSING ON JULY 16, 2014.