"GREAT MOMENTS IN THE BLUES"
2013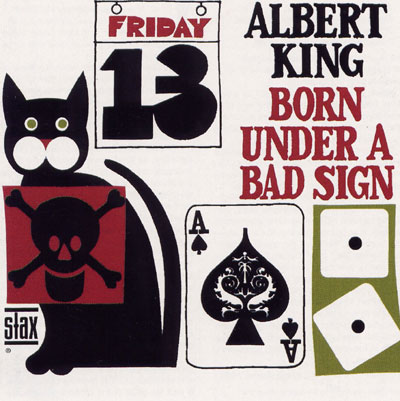 A RETROSPECTIVE ON AN ALBUM THAT
"WOULD CHANGE THE FACE OF AMERICAN MUSIC, MODERNIZING THE BLUES".
"'IT WAS THE GREAT DIVIDE OF MODERN BLUES, THE POINT AT WHICH THE MUSIC
WAS RESCUED FROM SLIPPING INTO DERIVATIVE OBSCURITY."

SUCH IS THE IMPACT AND IMPORTANCE OF ALBERT KING'S "BORN UNDER A BAD SIGN"
RECORDING FROM 1967. IT BECAME "ONE OF THE MOST POPULAR AND INFLUENTIAL
BLUES ALBUMS OF THE LATE 60s", RECEIVING A GRAMMY HALL OF FAME
AWARD IN 1999 FOR "QUALITATIVE OR HISTORICAL SIGNIFICANCE", AND WAS
INDUCTED INTO THE BLUES FOUNDATION HALL OF FAME. BACKED ON THE
RECORDING BY THE LEGENDARY GROUP, "BOOKER T. & THE MGs", ALBERT KING'S
GUITAR WORK "DIRECTLY INFLUENCED LEGIONS OF GUITAR PLAYERS" AND INCLUDES
AMONG ITS MANY ADHERENTS JIMI HENDRIX, ERIC CLAPTON AND STEVIE RAY VAUGHAN.
"BORN UNDER A BAD SIGN" RANKS AT NUMBER 491 IN ROLLING STONE
MAGAZINE'S TOP 500 RECORDINGS OF ALL TIME.
FEATURING
ALLAN DUFFY - DAVID McMORROW
RICHARD THORNTON - RICK TOWNSEND
"POSSIBLY THE GREATEST GUITARIST CANADA HAS SPAWNED IN THE GENRES
OF BLUES AND ROCK 'N' ROLL" - ANDY GRIGG, REAL BLUES
"JACK DE KEYZER PLAYS GUITAR LIKE A MAN WITH HIS PANTS ON FIRE!"
- LIAM LACEY,THE GLOBE & MAIL



-----


MULTI-AWARD RECIPIENT