"BIG BAND JAZZ"
2012
VINCENT WOLFE
AND
THE GEORGE LAKE BIG BAND
FEATURING
STEVE PETTAFOR - MUSIC DIRECTOR
PRESENT
"CELEBRATING THE CLASSIC CROONERS"
TONY BENNETT - NAT KING COLE - BOBBY DARIN
DEAN MARTIN - FRANK SINATRA - MEL TORME - ... AND MORE!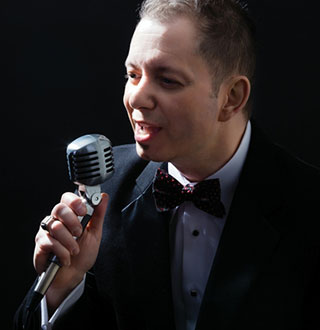 WITH THREE SUCCESSFUL STUDIO PROJECTS AND HUNDREDS OF WITH THREE SUCCESSFUL STUDIO PROJECTS AND HUNDREDS 0F CLUB, CONCERT, AND FESTIVAL DATES TO HIS CREDIT, TORONTO-BASED CROONER VINCENT WOLFE CONTINUES TO WOW AUDIENCES IN CANADA AND IN THE U.S. HIS TALENT HAS EARNED PRAISE FROM REVERED JAZZ VOCALISTS MARLENA SHAW, SHEILA JORDAN, AND JAZZ-SOUL DIVA JEAN CARNE, AND HIS VOICE HAS BEEN DESCRIBED BY MANHATTAN TRANSFER FOUNDING MEMBER LAUREL MASSÉ AS "SOMEWHERE BETWEEN CHET BAKER AND MEL TORMÉ - A WONDERFUL PLACE TO BE!"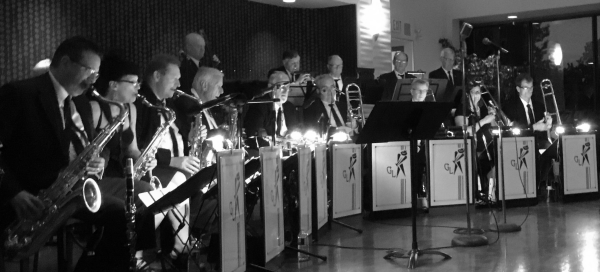 WITH LOTS OF BRASS, A LITTLE SASS, AND PLENTY OF PIZZAZZ, THE AWARD-WINNING "GEORGE LAKE BIG BAND" WOULD BE HAPPY TO SWING FOR YOU SOMETIME SOON. THEIR FINELY TUNED REPERTOIRE DRAWS ON THE TIMELESS APPEAL OF THE GREATS: GLENN MILLER, DUKE ELLINGTON, ARTIE SHAW AND ARRANGEMENTS BY MODERN SWING ARTISTS LIKE THE CHERRY POPPIN' DADDIES AND THE BRIAN SETZER ORCHESTRA. THIS DISTINCTIVE BLEND HAS GIVEN "THE GEORGE LAKE BIG BAND" A UNIQUE STYLE THAT CONTINUES TO WIN FANS FROM EVERY GENERATION. SIMPLY PUT, THEY CAN REALLY SWING!