"GREAT MOMENTS IN JAZZ"
2013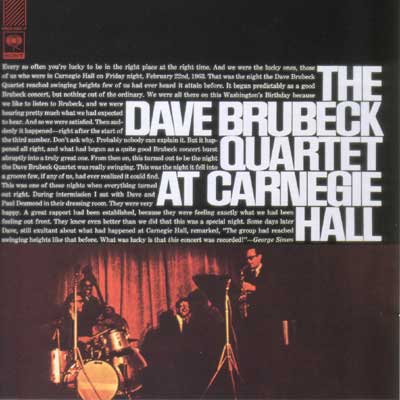 PERFORMED BY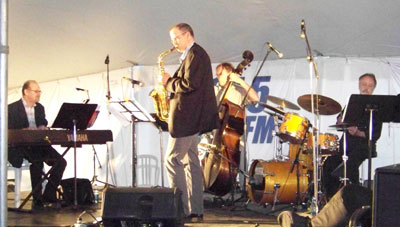 THE BERNIE SENENSKY QUARTET
FEATURING
ANDY BALLANTYNE - TERRY CLARKE, O. C.
NEIL SWAINSON


AWARD RECIPIENTS
A RETROSPECTIVE ON
"THE MAJESTIC RECORD THAT SHOULD BE IN EVERY SERIOUS COLLECTION".
IT IS "ONE OF THE ALL-TIME GREAT LIVE JAZZ PERFORMANCES",

AND IT TOOK PLACE ON FEBRUARY 21 , 1963 AT CARNEGIE HALL IN NEW YORK CITY.
THE CONCERT FEATURED THE BRILLIANT COMPOSITONS OF DAVE BRUBECK AND
ALTO SAXOPHONIST, PAUL DESMOND ... MANY OF WHICH WERE BASED ON THE UNIQUE
TIME SIGNATURES THAT HAD PROPELLED THE QUARTET INTO WORLD-WIDE PRAISE
AND UNPRECEDENTED POPULARITY. HIGHLIGHTS OF THE PERFORMANCE INCLUDED
AN UP-TEMPO VERSION OF "TAKE FIVE", AND AN EXPANDED ARRANGEMENT OF
"CASTILLIAN DRUMS (PARTS I AND II)" . THIS PIECE SHOWCASED THE ARTISTIC
GENIUS AND TECHNICAL VIRTUOSITY OF DRUMMER, JOE MORELLO, IN AN
ELEVEN-MINUTE DRUM SOLO IN 5/4 TIME. OTHER CONCERT PIECES INCLUDED
"BLUE RONDO A LA TURK", "THREE TO GET READY" AND "IT'S A RAGGY WALTZ".